ACCQ Prep HP125
ACCQPrep® HP125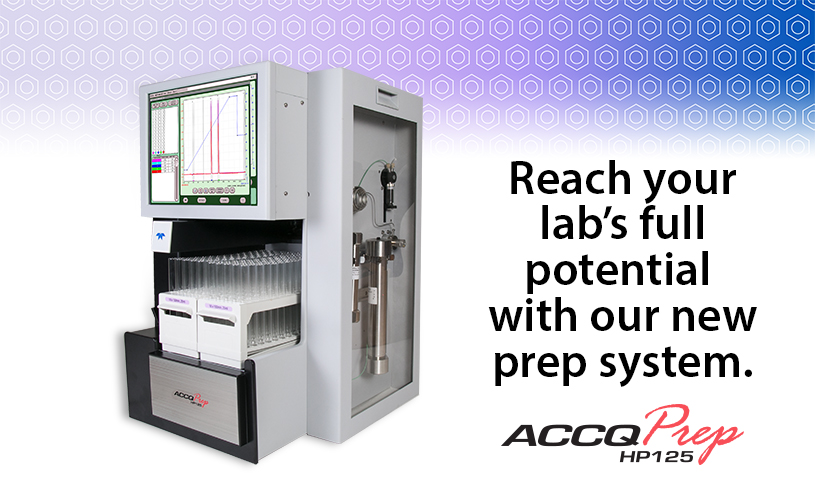 Pr​ep​ar​ative liquid chromatography system
The Teledyne ISCO ACCQPrep HP125 was developed and designed with the ease of a Flash system in mind. It does not follow the traditional path of an analytical system, but rather this system has been designed to be intuitive and easy-to-use.
The ACCQPrep HP125 eliminates the unnecessary and complex integration parameters found in many of the HPLC systems in today's market. Our PeakTrak® software, which currently drives our CombiFlash® product line, is the basis for controlling the ACCQPrep HP125. By using this software, the need for a standalone PC is eliminated. This results in a smaller, more compact unit with an integrated touch screen interface.
Enjoy the confidence associated with Teledyne ISCO's active solvent and waste level monitoring which reduces the risk of solvent spills. In addition, all sample and collection racks are RFID coded eliminating the potential of missed tubes.
The ACCQPrep HP125 is compatible with Teledyne ISCO Automation Modules and other detection systems for maximum efficiency.
Standard Features
​Flow rates from 1 to 125 mL/min allow development of Prep methods directly on the system without the need for pump head changes
Operating pressure up to 6000 psi
Choice of UV or UV-Vis plus ELSD and MS options
Compatible with Automation Modules
Use the AutoInjector Module to make multiple purification runs on the​ same sample
Use the AutoSampler Module if you have several different samples to purify which may require multiple injections and different chromatographic conditions
Use the Column Selector Module to automatically switch to the next column required for your purification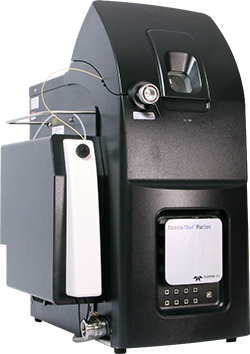 Compatible with PurIon Mass Spectrometer
Add mass directed fractionation to your purification
Use with Teledyne ISCO's PeakTrak software for single point control of all mass spectrometer parameters
Choose from three models to meet the needs of your application
ACCQPrep Specifications
Flow Rate Range
1-125 mL/min
Pressure Limit
up to 6000 psi (400 bar) Lower pressure limits user defined
UV and UV-Vis Detection
Variable UV 200-400 nm standard, Variable UV-Vis 200-800 nm option
ELSD Detection
Integrated Option that can be combined with either UV or UV-Vis
Number of Solvents
Binary gradient. 2 solvent std. 2x3 solvents optional
Programmable Gradients
Linear, step, isocratic
Gradient Linearity
+/-1%
Sample Introduction
Variable volume liquid load (5mL loop standard)
User Interface
15 in touchscreen
Fraction Collector
Internal
Dimensions
27.5x14.0x20.0 in (69.9x35.6x50.8 cm)
84.5 pounds (38.2 kg)
Dimention AS 2x1
Autosampler Module
18.9x14.0x19.3 in (48.0x35.6x49.0 cm)
31.1 lbs (14.1 kg)